~~~~~~~~~~~~~~~
Basic Information
~~~~~~~~~~~~~~~
Name:
Lucien Fenech
Alias:
many
Gender:
M
Age:
26
Race:
Human
Class:
Warrior
Rank:
Sexual Orientation:
Heteroflexible
Blood Type(Optional):
B
Birth Date(Optional):
April 1st
~~~~~~~~~~~~~~~
Appearance
~~~~~~~~~~~~~~~
Appearance: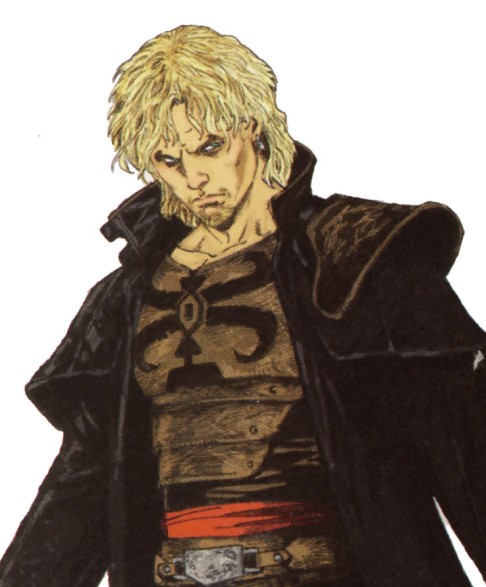 Height:
6'0"
Weight:
170
Body Type:
Tall, and lean but not skinny.
Extra Feature:
Left ear is pierced
Voice:
Smooth but with an underlying gruffness to it. Capable of making him sound both trustworthy and criminal all at once.
Extra Clothing/Gear:
Clothing is something like this:
Spoiler:
~~~~~~~~~~~~~~~
Persona
~~~~~~~~~~~~~~~
Personality:
A scoundrel through and through, and as such, Lucien tends to be loud, brash, flamboyant and slightly arrogant at all times. He's even been known to exaggerate tales of his own exploits in order to add to his own legend.
Though he's not as vicious as you might think all that implies. Lucien prefers to avoid violence when possible, not out of cowardice but because of some form of moral fiber buried in him beneath the criminal swagger. That's not to say he's useless in combat; he's proven himself an adept in that area more than a few times, though still preferring not to kill. If he killed everyone, who'd be left to spread his name around?
Likes:
His freedom. Money, especially yours. Alcohol, especially yours. Women, well, you get the idea.
Dislikes:
Authority and those who blindly follow it, people who take themselves too seriously, knights, demons, magic, and unnecessary death.
Goals:
To make the title of "self-proclaimed king of bandits" no longer just self-proclaimed.
Fears:
Getting old, rotting away in prison, commitment, drowning.
Strength:
Quick-witted, lateral thinker, skilled combatant, uncanny agility.
Weakness:
His need for excess everything, his selfishness, pretty faces, and crippling fear of drowning.
Extra Information:
~~~~~~~~~~~~~~~
History
~~~~~~~~~~~~~~~
History:
Addictions: Alcohol
Withdrawls: Yes. Shakes, vomiting.
Lucien was born the son of a nobleman and a servant girl. Unfortunately for the girl, life was no fairytale and once the nobleman found out about her pregnancy he was furious. Seeking to avoid being disowned by his family and separated from their wealth, he decided to have the woman murdered. One of the other servant girls overheard the plot and alerted Lucien's mother to it; this gave her time to flee. She quickly packed her belongings and disappeared over night. This was satisfactory enough to the noble, so he called the assassination off.
Maria, the servant girl, gave birth to Lucien in Helios, the city at the center of the empire. Shortly after his birth she fell ill, though she still raised him as best she could. By the time Lucien was 9 years old she was dead. With no living relatives, Lucien was left a homeless street urchin. He quickly took to thievery to survive.
One summer night Lucien picked the wrong pocket, or the right one, depending on your point of view. It was the pocket of Bleedin' Jack Bailey AKA the bandit king, leader of the bandit gang known as the Hangmen. Jack admired the young Lucien's boldness, and rather than punish the boy he accepted him into the Hangmen. It would change Lucien's life forever. He spent years learning the ways of the bandit highwaymen. He grew to accept The Hangmen as a family fairly quickly, and looked to Bleedin' Jack as a father figure.
Nobody escapes justice forever, though; not even the luckiest of outlaws. Around the time Lucien was 17 an order of knights (or mercenaries, Lucien isn't quite sure which.) came upon the Hangmen's hideout. Lucien rushed recklessly to defend his family, but was quickly overtaken by the bigger, more experienced knights and rendered unconscious and left for dead. The next thing Lucien knew he was struggling his way out from under a pile of bodies in the middle of a pond. He could feel his consciousness fading again under the water and almost didn't survive. This incident instilled a great fear of drowning in Lucien. Once on the surface he found Bleedin' Jack's corpse ironically hanging from a nearby tree. Some say this whole ordeal drove Lucien a little mad, but who could blame him? He recovered his father figure's cutlass and swore vengeance on whomever it was that destroyed his family.He's since become more adept with the weapon than his mentor ever was. Though vengeance has taken a bit of a backseat to his life of pillaging, it hasn't been pushed from his mind.
He's spent the past nine years living mostly the same life he'd become accustom to, only now with extra alcohol. He's tried to form a new Hangmen multiple times but each time has ended up worse than the last. Leadership disputes, greed and an incident with a demon have plagued all his recent attempts. He currently resides in Haven, robbing all the gentle folk without a gang; which has only forced him to become even more resourceful than he already was.