~~~~~~~~~~~~~~~
Basic Information
~~~~~~~~~~~~~~~
Name:
Macha Dragonborn
Alias:
Gender:
Female
Age:
20 (actual age 6 as Kaluoshen)
Race:
Demon
Class:
Unbound Demon
Rank:
Unbound Demon
Sexual Orientation:
Bisexual
Blood Type(Optional):
O
Family Members(Optional):
Mercedez - Wife (Deceased)
Solara - Daughter
Aurora - Daughter
Aiden - Son
Birth Date(Optional):
February 4th
Star Sign(Optional):
Aquarius
Extra Information:
~~~~~~~~~~~~~~~
Appearance
~~~~~~~~~~~~~~~
Appearance: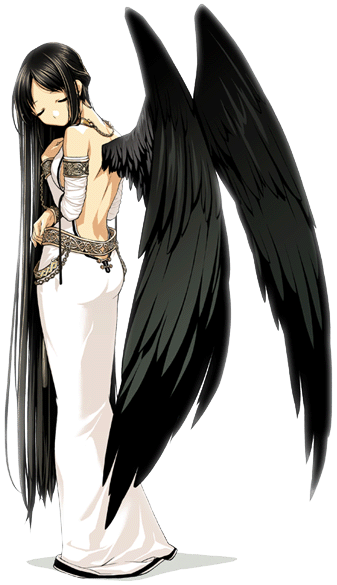 Height:
5'4"
Weight:
110lbs
Body Type:
Curvy, Busty
Extra Feature:
Wings
Voice:
Extra Clothing/Gear:
~~~~~~~~~~~~~~~
Persona
~~~~~~~~~~~~~~~
Personality:
Macha has a kind and nurturing nature. As a simple-minded character, she thinks things through in a straightforward manner that can get to the crux of the problem fairly efficiently and can aid her, usually accidentally. Even when faced with obvious or previous hostility, she rarely holds a grudge or negative feelings towards an enemy. However, this is not a ubiquitous feeling as she can direct considerable fury at a particularly enemy that crossed her.
Because of her condition, she is estranged for society and comes off as anti-social, but she tries to interact with humans, but only to seem bad due to shyness and inexperience. In addition, like her former self, she can become prone to incredible rage if provoked in certain ways, such as the harm of her friends, or reminders of her wife and children.
If one were to really analyze Macha's personality, it would be that she has the kindness and nurturing nature that Mercedez had, but her mind retains the vast intelligence that Kaluoshen collected. Her naivete comes from Mercedez and her great rage stems from Kaluoshen's demonic mind. A perfect amalgam to the two minds.
Likes:
Magic
Nature
Men
Women
Books
Dislikes:
Demons
Paladins
Goals:
To gain complete control over her powers and to make sure that she never loses someone she cares about ever again.
Fears:
Strength:
High Magical power
Weakness:
Lack of control (can't hold back powers)
Extra Information:
~~~~~~~~~~~~~~~
History
~~~~~~~~~~~~~~~
History:
Macha is thought to be a strange new recruit that joined the Ordo Magi in the mage tower, claiming to know nothing other than her name. She came in with an extremely high amount of magical potential, being able to produce devastating results with her magic even with such little little training. Macha trained as a "special case", being trained separately from the other students, for her magical power was a danger to others as well as herself. Many would wonder why she would never choose to use her powers for personal gain, for even without training, she could overpower many mages. Nonetheless, Macha was able to make friends at the Mage Tower, but never trusted anyone with her deepest secret.
In reality, Macha knows exactly who she is and where she came from, but the problem is that most likely no one would believe her, or those who do would lock her up or execute her. In truth, Macha is Kaluoshen, the last known dragon on Earth that caused massacres on random villages all over the world. Starting off from birth, Kaluoshen killed thousands within the pit of death in a barbarian trading village, eventually causing more deaths when he escaped and destroyed the village.
From then, Kaluoshen hunted down sources of souls to be devoured, obliterating towns and destroying nature that lived off of them. It wasn't until he came across the scent of the Grand Demon that he finally decided to change his course. Along the way, Kaluoshen had come across Mercedez, a travelling woman on her way to Orokos. Kaluoshen proceeded to take her as his mate to produce dragon offspring. Events occurred later on that caused the death of Mercedez, who he had learned to love, and caused Kaluoshen to go on his quest for power once again.
On his way, Kaluoshen returned to his birthplace to find that his servant, Agmaui Noye was still alive. Kaluoshen took his servant along with him as he traveled to Mt. Calenhad in search of more magical energy. As a result of the quest, Kaluoshen located an ancient tablet, which proceeded to absorb Agmaui and Kaluoshen into itself.
Within the tablet, Kaluoshen was brought into a realm of magical energies, filled to the brim with a spiraling vortex of spirits, spirits of those trapped within the tablet and were unable to get out. As a result, Kaluoshen was forced to fight against millions of humans, mages, and demons for every waking moment. One whole year had passed before Kaluoshen was finally free, but he had not come out the way he had originally.
Kaluoshen's new form was not something that one would suspect. Because of the two closest souls to him were women, Agamaui and Mercedez, the body created was that of a woman. The mind and personality was also remaining true, taking in the best of Mercedez and Kaluoshen's personality, adding some of the personalities of those trapped within the tablet. The new entity called herself Macha, a name that felt right to her. Macha took herself to the Mage Tower, knowing that they were the only people that would be able to help her control her powers and never allow the evil that lies within her to surface again as well as solve the reason for her appearance, which she shares with the late Empress of Helios and Head Mage, Kandis.
However, as time rolled by, Macha became plagued with visions of becoming Kaluoshen again, rampaging onto the innocents that inhabited the world. Fearing that she would eventually come to unleash that great power, Macha decided that it would be best if she didn't interact as much as physically possible. As a result, Macha isolated herself, living alone with nothing but the thoughts that plagued her mind, mentally fighting the urge to unleash Kaluoshen again upon the world.
Time passed and eventually, Macha decided that it was the day to determine which one would rule the body, the demon, or the human, Kaluoshen or Macha. Inside their conjoined minds, a battle of unparalleled importance was waged within. With every inch of her soul, Macha continued to fight back at the assaults of Kaluoshen, magical, physical, and mental. With each clash, they remembered what they were, who they loved, what they hated about each other. Both were two halves of a whole being, but the two sides never thought to give each other a chance.
In the end, neither was able to beat the other, both were matched up to be exact opposites, opposites that could work together, or destroy each other, with no victor in sight. The two minds unexpectedly joined one another, remembering what they were there for, who they were striving to live for, and who they were still in search of. As a result, a new creature was born, one that had a balance of mind, body, and soul.